One of the things I love about the classroom based use of SOLO Taxonomy is the way in which using the model helps students understand great questions. SOLO helps students understand how to construct great questions and how to answer them.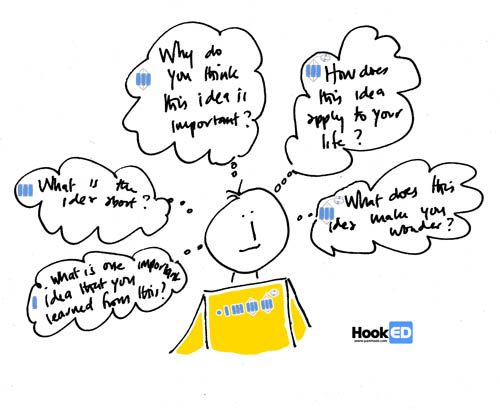 For example, the HookED SOLO Five – a series of five great questions students can use to extend their thinking.
1.  What is one important idea that I learned from this?
[Define: Unistructural Question]
2.  What is this idea about?
[Elaborate/Describe: Multistructural Question]
3.  Why is this idea important?
[Explain: Relational Question]
4.  How does this idea apply to my life? (To what extent is this idea relevant to the social, political, cultural, ethical or spiritual issues I/we currently face?)
[Apply: Relational Question/Extended Abstract Question]
5.  What does this idea make me wonder? (What do I know that I still don't know about this idea? What questions do I still want to ask?)
[Wonder: Extended Abstract Question]
This powerful SOLO questioning sequence is used by students of all ages when they are reflecting on their next steps (or as a prompt for their own inquiry/research). It is supported by the HookED SOLO Describe++ Map and self – assessment rubric.