DEFINE is an academic verb focused on definition. 
MAKE A CHARACTER MAP for DEFINE
What does DEFINE want?
DEFINE wants to find out what an object is.
They want to bring in relevant ideas to make a definition.
What questions does DEFINE ask?
What is it?
What is it called?
What is the name?
What process does DEFINE follow?
SOLO DEFINE Map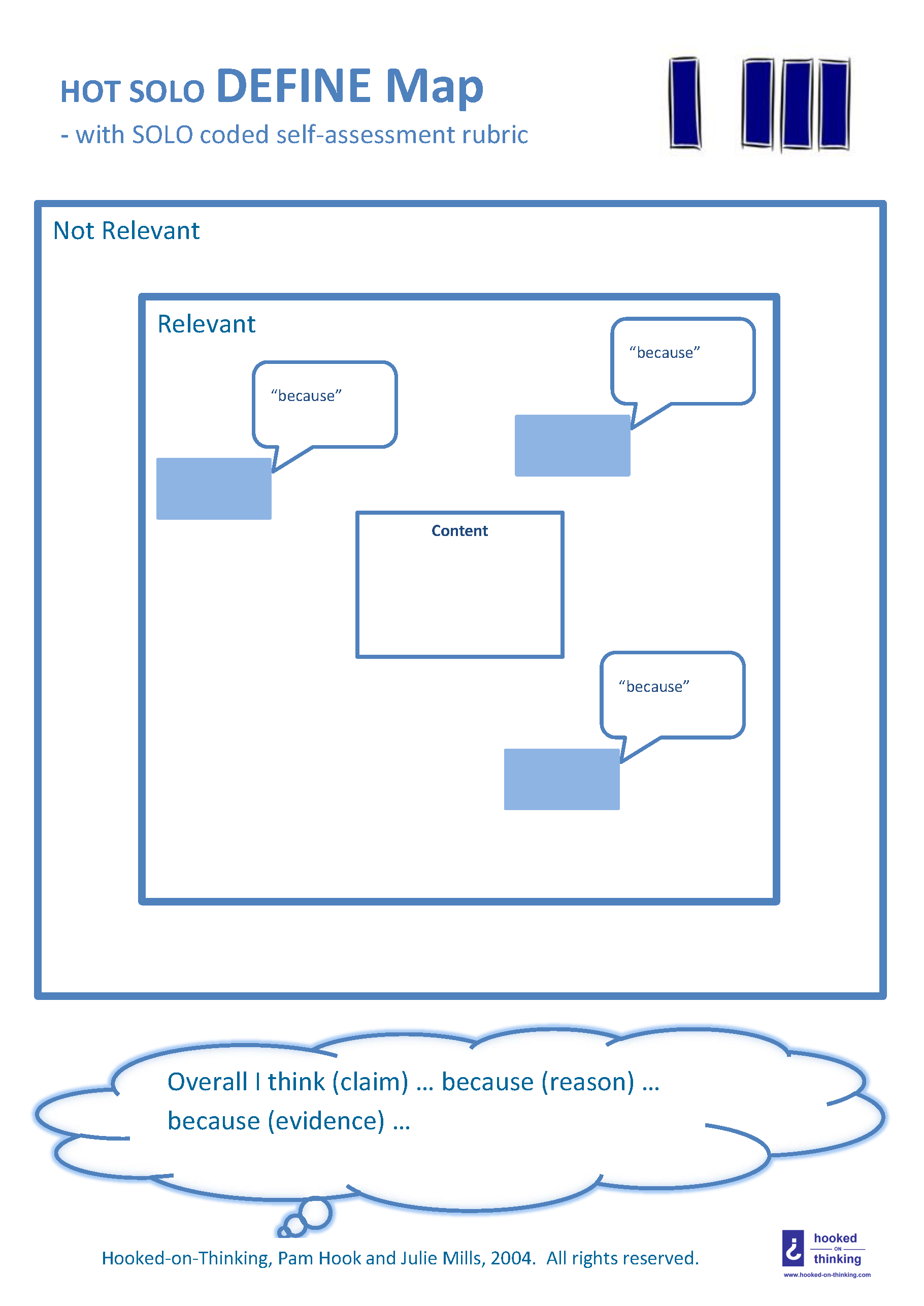 Refer Instructions and Template A4 and A5 on pages 9 – 11 ER Bk 51061
YouTube support: To watch the SOLO Define map animation, go to: https://youtu.be/_iOvkCZCSAc
How does DEFINE know how well it is going?
Success Criteria for shifting from surface to deep definition
Unistructural: I can define an object with one relevant idea,
Multistructural: I can define an object by listing several relevant ideas,
Relational: AND I can link these ideas by explaining why these ideas are relevant to what the object is, and
Extended abstract: AND I can extend these linked ideas by making a generalisation about what the object is.
Or insert visual rubric
What is DEFINE's Flashcard?
IMAGINE WHAT DEFINE WOULD BE LIKE IF THEY WERE A PERSON IN YOUR NEIGHBOURHOOD.
Describe DEFINE using a BioPoem structure. See example below.
DEFINE
(aka What is it?)
They wear a T-shirt bearing a large identifying logo – "This is a T-shirt"
And live in a well-labelled world
They only eat food if they can name all the ingredients
They drink distilled water without any additives
Their job is to label prescriptions at the local pharmacy
Their nature is to check the details and clarify meaning
Their best friend is DESCRIBE
They need to name everything in their environment.
Watch out, they are so busy labelling they can forget the total experience
Write a Tweet from DEFINE. See example below
Draw DEFINE's T-shirt. See example below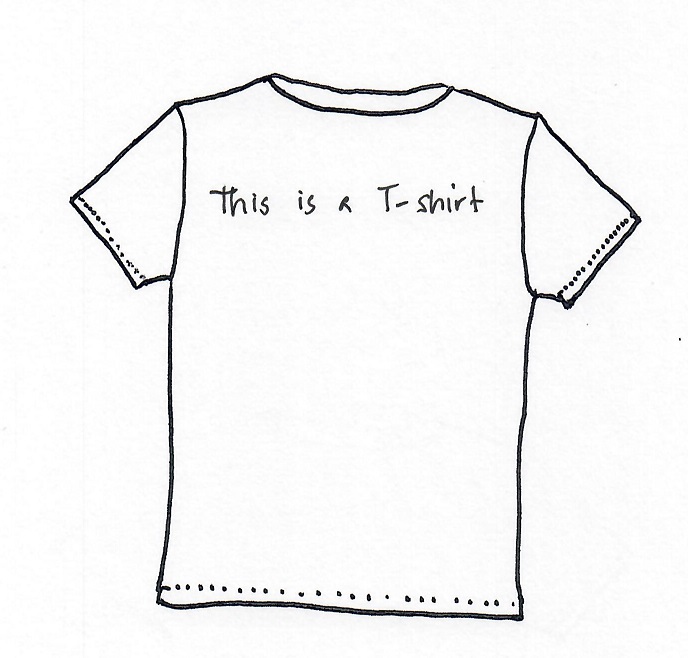 Create a FaceBook Page for DEFINE ?????
Note – age limits on students using FaceBook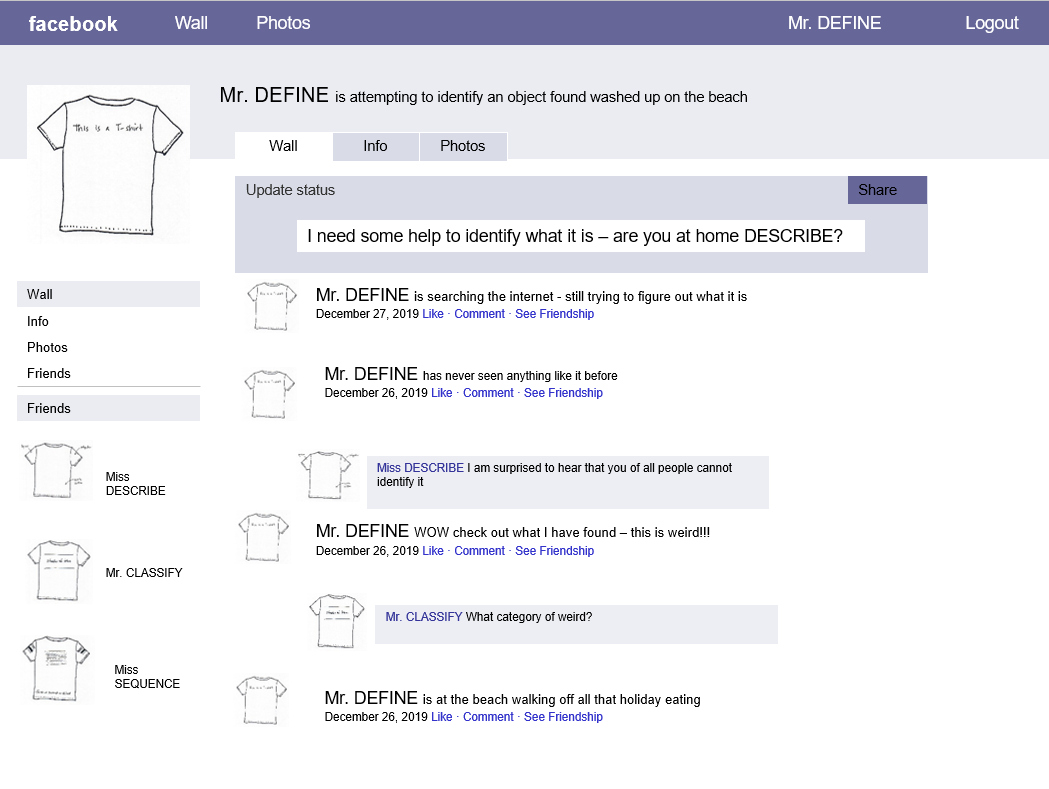 Other social media contexts like
ReadWriteThink: Profile Publisher
http://www.readwritethink.org/parent-afterschool-resources/games-tools/profile-publisher-a-30243.html
ReadWriteThink: Creating a Character Blog
http://www.readwritethink.org/classroom-resources/lesson-plans/creating-character-blogs-1169.html
ReadWriteThink: Trading Card Creator
http://www.readwritethink.org/parent-afterschool-resources/games-tools/trading-card-creator-a-30181.html