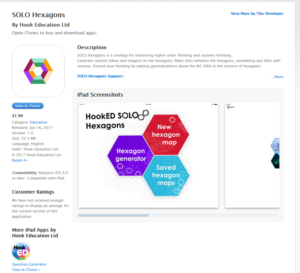 Dead chuffed to announce that SOLO Hexagons has just been released on the Apple iPad Store.
Love the versatility in new SOLO Hexagons App – the team at CactusLab has developed earlier work by Dave Carpenter and have captured that "sandpit pedagogy" feel that makes SOLO Hexagons such a flexible strategy for shifting students from surface to deep outcomes.
Create – Share – Connect – Challenge – Change – Enjoy
Bonus – Make your own "Reverse Hexagon" Templates.